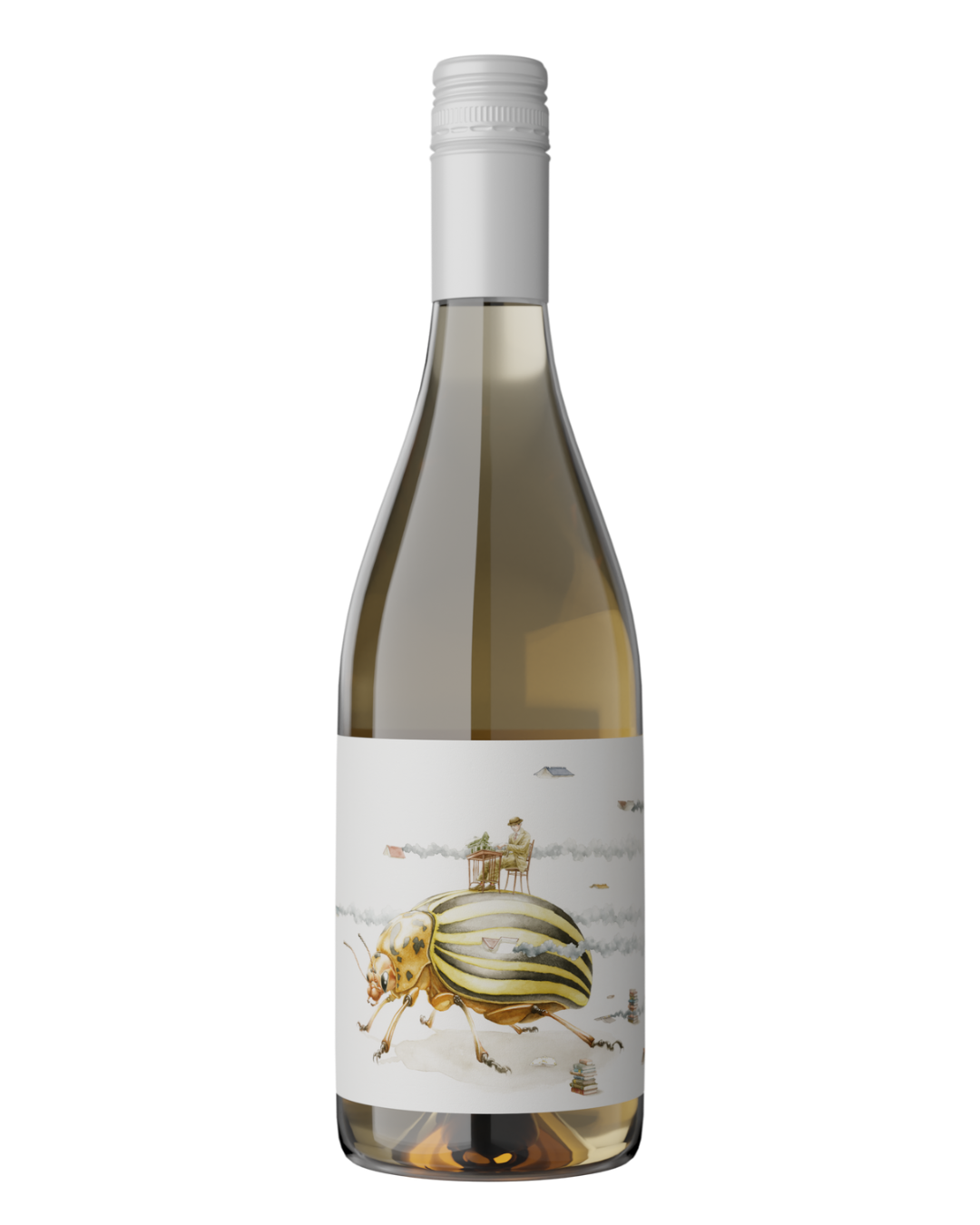 2022 Check Your Côte at the d'Or
Produced by Licence Number: The Hatch (306225)
In stock, ready to ship

Inventory on the way
Taste
This chardonnay presents a harmonious blend of weight and acidity on the palate, combining the flavors of vanilla wafer and coconut in a delightful bouquet. By aging the wine predominantly in stainless steel with oak staves, a sweet undertone of oak infuses it, while the stainless steel maintains the fruity essence intact. As a result, this balanced chardonnay offers a cohesive and enjoyable experience, showcasing the perfect marriage of fruit and oak.
Concept
Kafka: bizarre author, wrote strange tales. From Czechoslovakia. Morstad: artist, dug the yarns. Made wild art: Kafka atop a potato bug typing. Pages flying, chaos reigned. Called it "Kartoffel Kafka." A pun. Wine: "Check Your Côte at the D'Or" too. Côte d'Or, Burgundy wine region. Kafka's land meets Chardonnay place. Trippy art, like Kafka's weird yarns, stirs thought.
Art
The label depicts the celebrated absurdist author Franz Kafka precariously perched atop an enormous potato beetle. As the unlikely pair lumber across the label's surreal terrain, papers and books swirl chaotically around them, a visual metaphor for the disorder and angst permeating Kafka's oeuvre. The scene is the fanciful creation of Canadian artist Paul Morstad, who delights in crafting whimsical and thought-provoking works. A play on words connects Kafka's Czechoslovakian roots with France's famed Côte d'Or wine region. Like Kafka's unsettling stories, Morstad's illustration lingers, inviting contemplation. A portal to a bizarre dreamscape, the label mirrors the transportive experience of imbibing the golden liquid within.
Grapes
100% Chardonnay
Alcohol: 12.2%