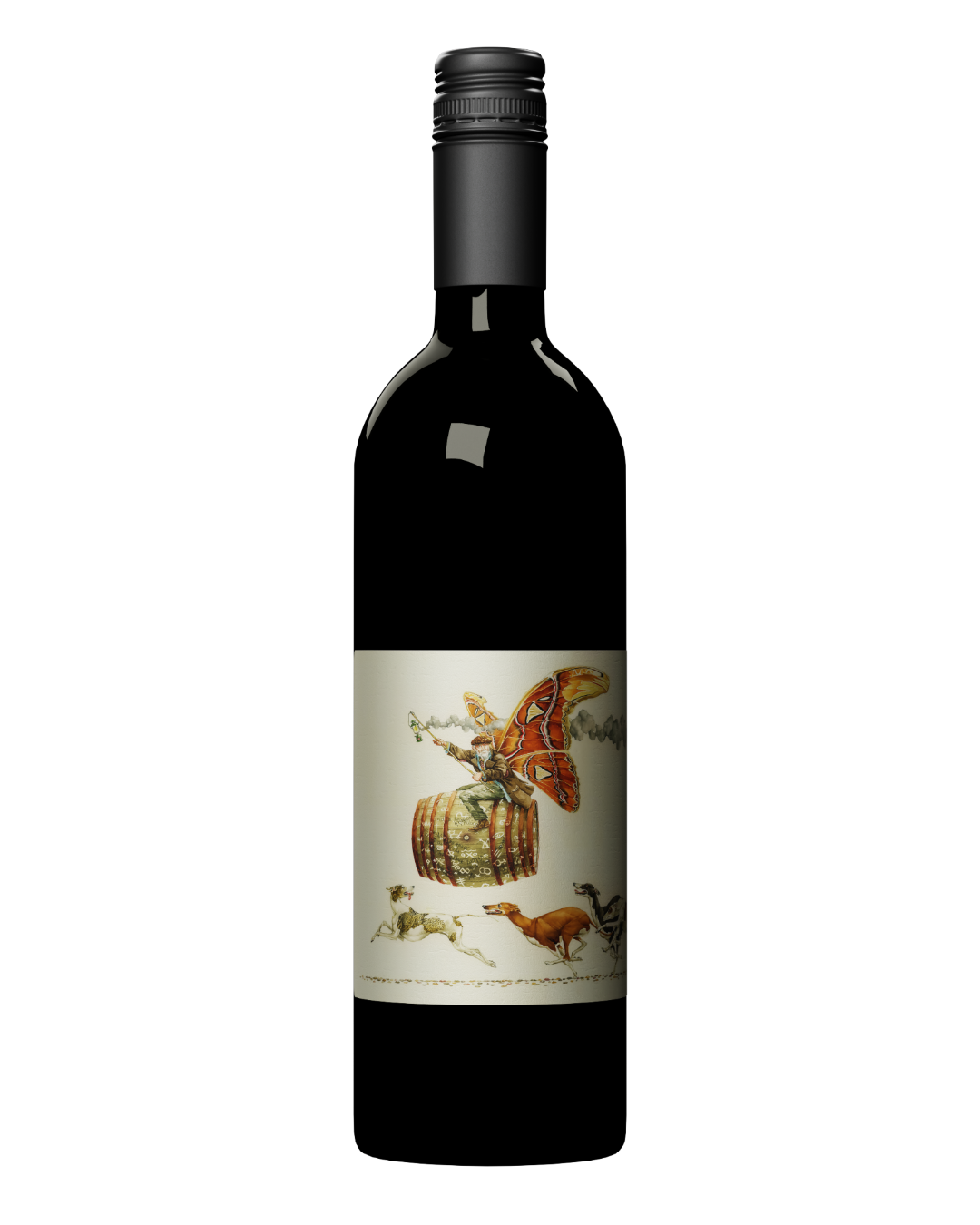 2020 A Portmanteau of Merit and Heritage
Produced by Licence Number: The Hatch (306225)
In stock, ready to ship

Inventory on the way
Taste
A burst of ripe berries upon the opening! Then a solid core of fruit persists with energetic acidity and even a touch of savory complexity. Dusty tannins frame the long finish with intrigue. A dance of flavors indeed! Not for wallflowers, this wine demands your engagement. Nose: blackberries, plums, cassis, floral notes (violet blossoms), dark chocolate Taste: dark fruit, refined tannins, blackcurrant, velvety textures, peppery character
Concept
A portmanteau such as "Meritage" is a word that blends two other words and their meanings. Paul Morstad's art pays homage to Diogenes carrying a lantern in broad daylight
claiming, "An honest man is hard to find." He lived in a cast-off wine barrel with his dogs for company.

Art
At the hatch, we craft wines that reflect our unique terroir and passion for creativity. We are proud to present our "A Portmanteau of Merit and Heritage" - a cheeky nod to the origin of the term "Meritage". This wine features label art from Paul Mortad entitled "An Honest Man is Hard to Find". It's an homage to Diogenes, the ancient philosopher who searched for truth and virtue in a corrupt world. He famously carried a lantern in broad
daylight, looking for an honest man. While you won't find any honest men in this bottle, you will find a great wine. We can honestly say we love this wine and think you will too.


Blend
42.9% Jaggers Rock Vineyard Merlot
35.7% Dhaliwal Vineyard Cab Franc
21.4% Monarch West Bench Cab Sauv
Alcohol: 14%