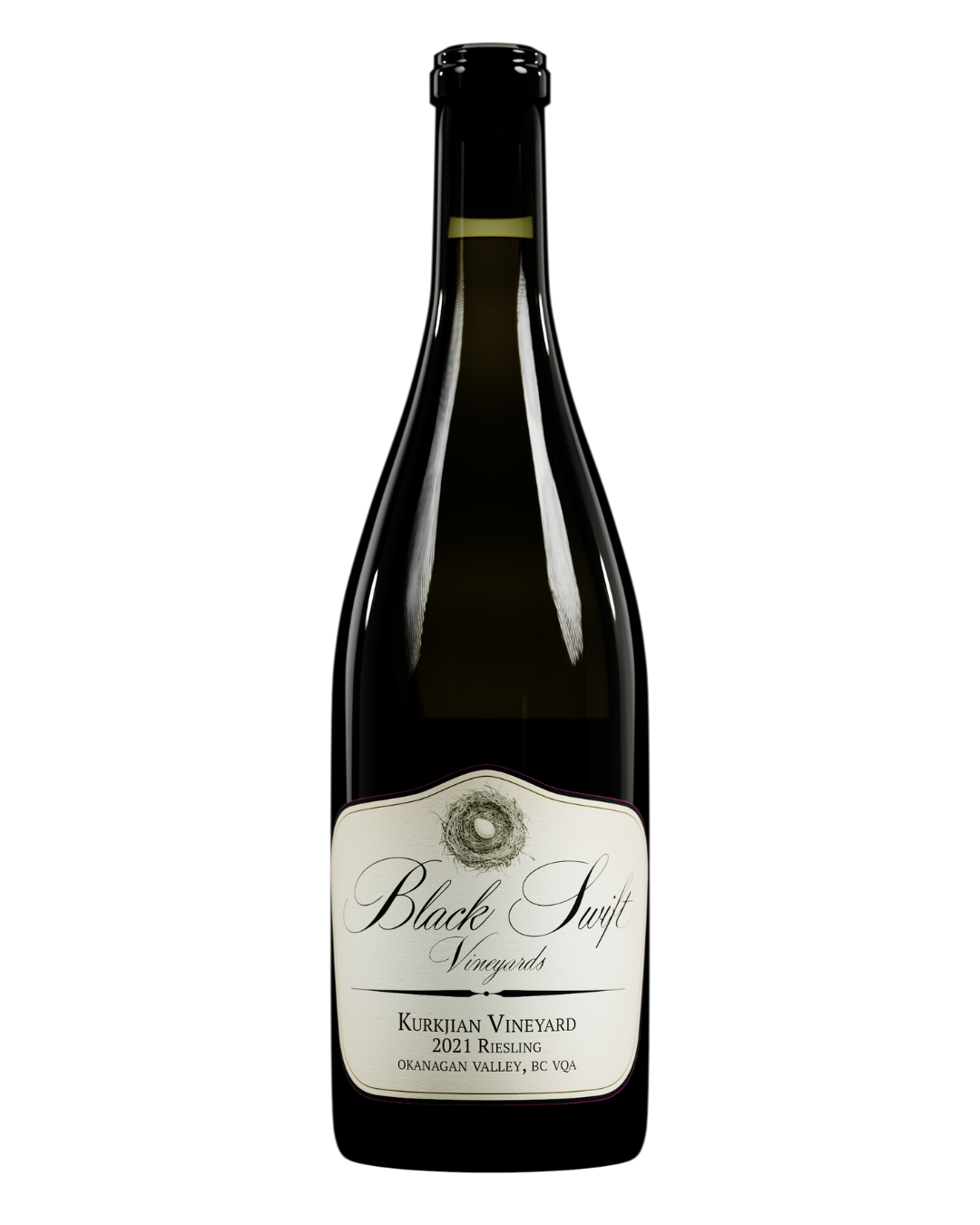 2021 'Kurkjian Vineyard' Riesling
Produced by Licence Number: Black Swift Vineyards (308531)
In stock, ready to ship

Inventory on the way
Taste
The 2021 single vineyard Riesling boasts a captivating nose of savoury herbs, lychee, and bubblegum that entices the senses. Upon the palate, flavors of crisp apples and zesty lime leaves interplay, resulting in a beautifully balanced expression of this noble grape variety. A
true marvel of winemaking, this Riesling showcases a depth of character that is both complex and intriguing. Its bright acidity is framed by a backbone of minerality that is both subtle and enduring, resulting in a finish that lingers on the tongue with a refreshing persistence.

Vineyard
Nestled in the south mission area of Kelowna, the Kurkjian vineyard is a four-acre gem that showcases the potential of organic viticulture in the Okanagan Valley. Planted in 2005 with vinifera vines, the vineyard enjoys a north-west orientation that exposes it to the early morning sun but shields it from the intense afternoon heat. This creates a balanced microclimate that fosters gradual and even ripening of the grapes, enhancing their natural acidity and freshness. The soil is a rich mosaic of clay, sand and mineral deposits, reflecting the erosion history of the region and imparting depth and complexity to the wines. Surrounded by a diversity of flora and fauna, including bees, highland cows, chickens and other farm animals, the vineyard benefit s from a holistic approach to farming that respects nature and promotes biodiversity. The result is a range of wines that express the terroir and character of this unique site.

Winemaking
100% Riesling
10 Months Stainless on lees
Alcohol: 10.7%