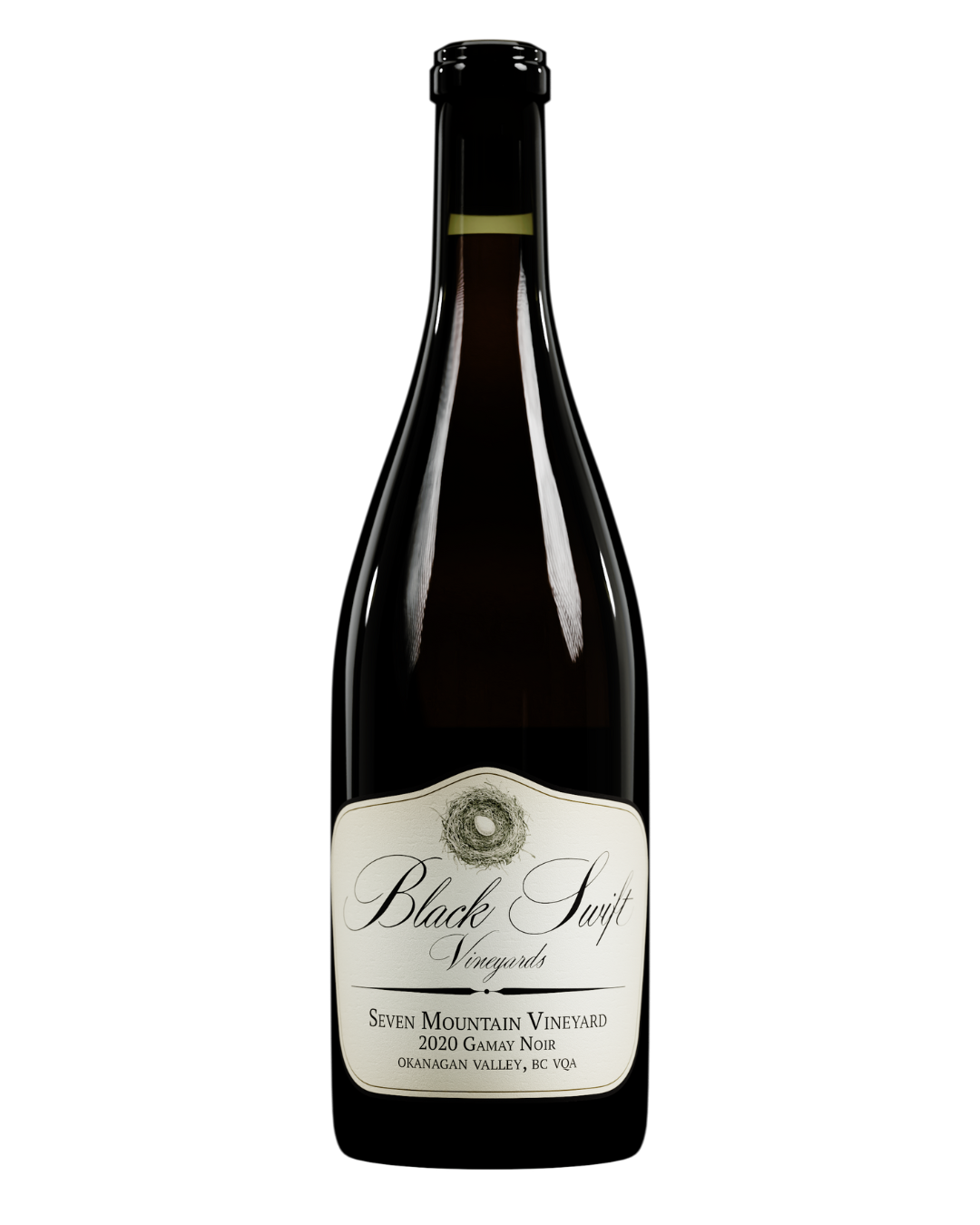 2020 'Seven Mountain Vineyards' Gamay
Produced by Licence Number: Black Swift Vineyards (308531)
In stock, ready to ship

Inventory on the way
Taste
Experience the luscious flavors and aromas of the 2020 Gamay from 7 Mountain Vineyard. The cool-climate conditions of the vineyard result in a concentrated flavor profile of perfectly ripe grapes. The bouquet offers intriguing hints of black pepper, ripe blackberries kissed by the sun, and a touch of sweet tobacco and leather. On the palate, indulge in elegant blackberries and wild raspberries picked at the peak of ripeness, accented by delicate notes of rosemary and thyme. Tangy cranberries and subtle spiciness add depth and complexity, leading to a velvety mouthfeel with gentle yet persistent tannins. A light to medium-bodied texture with zesty, mouthwatering acidity rounds out the palate, culminating in a long and satisfying finish with a touch of smoky oak and vanilla. This exceptional wine, aged 20 months in neutral oak barrels, is a testament to the unique terroir of the region and complexity of Gamay Noir wine.

Vineyard
Nestled in the hills of East Kelowna, 7 Mountain Vineyard is a hidden gem of the Okanagan Valley wine region. Led by grower Tony Petretta, the vineyard specializes in cool-climate varietals that are sought after by winemakers throughout the area. The unique terroir of the vineyard, with its north-west facing slopes, clay-mineral soils, and moderate temperatures, create ideal conditions for acidity-driven grapes that are truly expressive of their origins. The star of the vineyard is Gamay, a red grape that produces lightbodied, fruity and floral wines with a refreshing finish. In addition, Gewürztraminer, Müller Thurgau and Pinot Auxerrois offer aromatic and crisp white wines that pair well with a variety of cuisines. 7 Mountain Vineyard's commitment to sustainable farming
practices ensures the vineyard remains healthy and productive for years to come. For winemakers looking to create exquisite single varietal wines that truly express the unique character of the Okanagan Valley, 7 Mountain Vineyard is a must-visit destination.

Winemaking
100% Gamay
20 Months 100% Neutral Oak
Alcohol: 12.3%