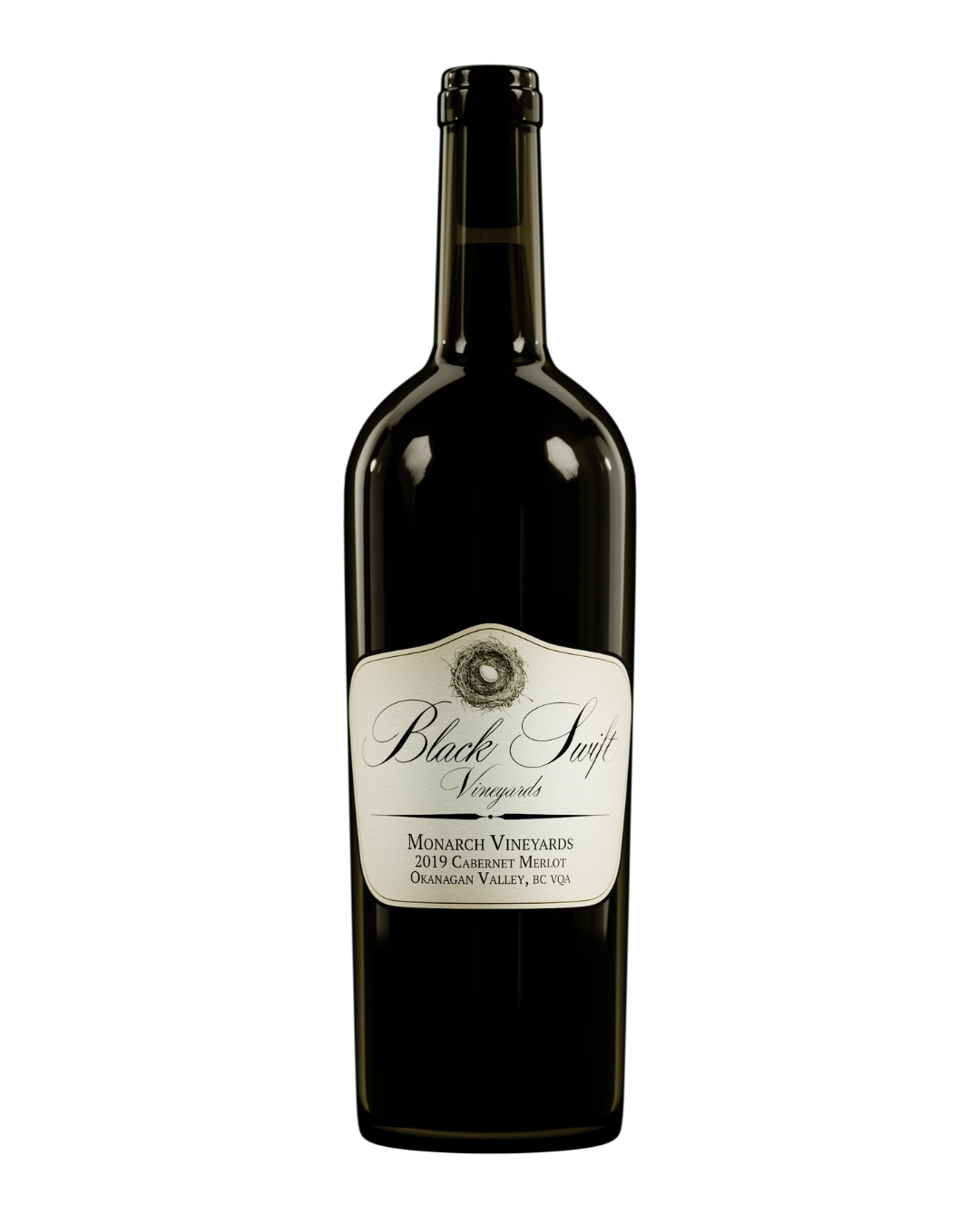 2019 'Monarch Vineyard' Cabernet Merlot
Produced by Licence Number: Black Swift Vineyards (308531)
In stock, ready to ship

Inventory on the way
Taste
The Monarch Vineyard 2019 single vineyard blend of Cabernet Sauvignon, Cabernet Franc, and Merlot is a triumph of artistry and terroir. The nose is an exquisite bouquet of cassis and perfume, expertly balanced with hints of vanilla and oak. The palate is a symphony of flavor, with a harmonious interplay of blueberries and other succulent fruit flavors, dancing elegantly with a subtle spice and herbaceous undertones. The mouthfeel is silky smooth, with supple tannins and a long, lingering finish that leaves the senses enraptured. Each sip is a journey that transports the taster to the very heart of the vineyard, where the grapes were tended with utmost care and precision. This exceptional blend is a testament to the skill of the viticulturalists, and a true reflection of the terroir of the vineyard.
Vineyard
Nestled in the sun-drenched South Okanagan region of British Columbia, Monarch Vineyards is a family-owned estate that produces high-quality wines from a diverse range of terroirs. With vineyards in both Oliver and Osoyoos, Monarch showcases the unique expression of each site through its varietals. The Paradise Block in Oliver is planted with Pinot Gris and Merlot, as well as a new addition of Gamay. The soil here is rich in silt from the nearby Okanagan River and its floodplains, with pockets of gravel, sand, and glacio-fluvial deposits. The wines from this block are elegant and aromatic, with a refreshing minerality. The West Bench Block in Osoyoos is home to Cabernet
Sauvignon vines that thrive on deep sand throughout. The lake nearby moderates the temperature swings, while granite intermingled with the sand adds complexity and depth. The wines from this block are powerful and structured, with ripe fruit flavors and firm tannins. The East Bench Block in Osoyoos hosts premium red varieties such as Syrah, Cabernet Franc, and Cabernet Sauvignon. The soil here is also sandy but with more  elevation and exposure. The wines from this block are intense and spicy, with layers of dark fruit and savory notes.

Winemaking
42.9% Merlot, 28.6% Cabernet Franc, 28.6% Cabernet Sauvignon
37 Months in 100% New Oak
Alcohol: 14.4%